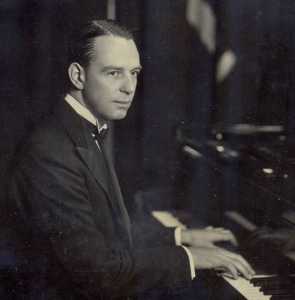 Cecil Norman was born in Oldham, Lancashire, on 29th September 1897. His father and mother were in the variety profession, as a double act billed as Otto and Olga, although there is evidence in the form of old newspaper cuttings that his father had been a blacksmith and his mother a mill hand. Cecil, whose real name was Cecil Law, was regarded as a child prodigy. At the age of eight he won a piano competition at the Preston Musical Festival and was considered very gifted, and possibly (for his age) the finest pianist of his day. By the age of 11 he was playing concertos, at 15 he appeared at London's Aeolian Hall!
As a result of incessant practice, however, he developed neuritis in the right hand, forcing him to give up the piano for a couple of years. According to a note in his file at the BBC Written Archives Centre, he took up the saxophone for a while and joined Jack Hylton's Band, (but the accuracy of this statement is highly questionable). Returning to the piano, Cecil decided to specialise in dance music, this being less likely to aggravate his condition.
He later formed a band with his saxophonist brother, Leslie, and played at the Criterion, Café de Paris and the Carlton. After this he went to America to work with Ray Noble and Rudy Vallee. Having played with many well-known bands, he toured extensively with Howard Jacobs in 1937, visiting Australia, New Zealand and Honolulu.
Returning to Great Britain, he played for Jack Jackson at the Dorchester and George Melachrino at the Café de Paris, accompanying many famous stars. One night in October 1941, in the middle of an air raid, he received a call from Billy Ternent, asking him to join the BBC Dance Orchestra, a position which he gladly accepted. Later in the war he moved on to join Victor Silvester's Ballroom Orchestra, which incorporated two pianos - the other piano was played by Pat Dodd. The duo made a number of records on the Decca Music While You Work label.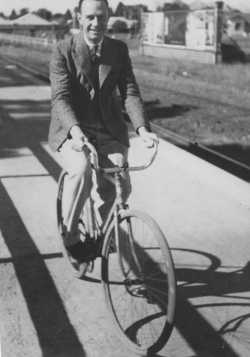 When Pat Dodd left the orchestra, he was replaced by Ernest Wilson. By now, the two pianos had become such a popular part of the Silvester orchestra that it was suggested they should broadcast in their own right. Thus, in 1945, Cecil Norman and the Rhythm Players were born — a five-piece combination of two pianos, guitar, bass and drums (the latter doubling on xylophone and later vibraphone). In 1945, they made the first of 466 appearances in 'Music While You Work' and were soon to become one of the most popular bands in the series. Indeed, Cecil directed more editions than any other bandleader. They played a mixture of popular medleys and light music novelties, one of which was always a Cecil Norman 'original'. Some readers may recall pieces like 'Green Turtle' and 'Up with the Lark' (appropriate for Cecil, who had to rise at 5.00 am if he was playing 'Music While You Work!'). Other titles included 'Macapa', 'Small Town Parade', 'Tulip Chimes' (inspired by a trip to Holland), 'Fancy Free', 'The Jazz Drum Major', 'All Keyed Up', 'Blue Moonlight', 'Jamaica Walk', 'Tampico', 'Blues in a Hurry' and 'Chateau of Dreams'. Actually, whilst many of these would sound familiar to the older listener, the titles probably mean little as 'Music While You Work', like some other programmes, was unannounced.
In 1959 there was a series called 'The Composer at the Piano' in which different pianists played 30 minutes of their own compositions. Cecil Norman was one of those asked to contribute and he played many of the above pieces, this time announced. Cecil Norman was featured in many different series during the fifties and sixties, either with the Rhythm Players or as a solo pianist. These programmes included 'Piano Playtime', 'Kings of the Keyboard', 'Music Box', 'Bright and Early', 'Morning Music' and 'Play it Again' — a sequence of uninterrupted melodies in which Cecil Norman and Eddie Macauley (who had replaced Ernest Wilson as second pianist) were joined by other well-known soloists such as Jack Emblow, Tommy Reilly, Leslie Baker and Jackie Brown. This programme later became part of 'Morning Music' and was re-titled as 'Good Morning Music.' During the sixties, Pat Dodd returned as second pianist and actually led the group on one occasion when Cecil was unable to attend (presumably indisposed). There had been a similar situation in the mid-fifties when Cecil stood in for Ian Stewart, leading his quintet!
Cecil was reportedly devastated when 'Music While You Work' was taken off — it ended on his 70th birthday, although the Head of the BBC Popular Music Department, Kenneth Baynes, did send him a tape of his final programme, by way of a souvenir. Some consolation! Some eight months later, in May 1968, Cecil Norman wrote to the BBC asking why it was that,after more than 25 years, he had been dropped from broadcasting. He pointed out that, not only had he received hundreds of 'fan' letters over the years, but he was now getting lots of enquiries asking why he was no longer on the radio. Fortunately for Cecil, Kenneth Baynes took up his case with the Controller of Radio 2, persuading him to utilise the players in 'Breakfast Special'. This resulted in frequent appearances by the group until the show ended in late 1971. The Rhythm Players' final appearance was in October 1971. However, in July of that year, Cecil had appeared as a soloist in a series called 'Concert Grand' (formerly 'Kings of the Keyboard') in which he played his own composition, 'All Keyed Up'.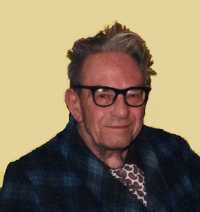 Although Cecil made few records in his own name, at least after the 78 era, he did briefly come out of retirement in 1974 to make an LP of strict-tempo dance music on the Decca Eclipse label entitled 'In the Style of Charlie Kunz' — a daft and frankly insulting title for a record by a pianist who was known for his own style, never attempting to sound like anyone else!
Cecil Norman moved to Worthing in 1971, a decision he later regretted, feeling rather detached from his friends. He never really recovered from the death of his wife Betty, his 'biggest fan', in 1981 and spent the rest of his life in his cold, dark flat, living off Meals On Wheels. With negligible income, he had to sell his piano in order to live and had to appeal to such distant relatives as he had, to pay his electricity bill. A lonely old man, dreading every winter, he was barely able to look after himself but refused offers to go into a home for the elderly.
He died on 8th February 1988, aged 91.
---


Listen to 'Music While You Work' played by Cecil Norman and the Rhythm Players
as broadcast on 20th. March 1964.
MUSIC WHILE YOU WORK on 20th March 1964
played by Cecil Norman and the Rhythm Players
Calling All Workers (sig)
Medley:
. Here we are again
. You are my lucky star
. Little White Lies
. Why do I love you
. You were meant for me
Blue Moonlight
Have you ever been lonely
Broken Doll
Beautiful Dreamer
Slightly Latin
I think of you
I love the little things
It had better be tonight
Birichino
Bond Street Rag
Diane
S'Wonderful
Calling All Workers (sig)
Eric Coates

Knight
Nacio Herb Brown
Walter Donaldson
Jerome Kern
Nacio Herb Brown
Cecil Norman
Nacio Herb Brown
Tate
Trad.
Johnny Douglas
Stirling
Tony Hatch
Henry Mancini
Albert Marland
Inez Holland
Rapee
George Gershwin
Eric Coates
---


Listen to 'Music While You Work' played by Cecil Norman and the Rhythm Players
as broadcast on 3rd October 1963.
MUSIC WHILE YOU WORK on 3rd October 1963
played by Cecil Norman and the Rhythm Players
Calling All Workers (sig)
Yankee Doodle Boy
Give my regards to Broadway
East Side, West Side
Forty second street
Whistling Commandos
More
I'm confessing
Whistling for the moon
La Cannebiere
The ice cream man
Shy Girl
Opening night in loveland
Bells in blue
Dance on
I'm telling you now
Going to town
I wan't to be happy
Calling All Workers (sig)
Eric Coates
Cohan
Cohan
Blake
Harry Warren
Cecil Norman
Oliviero
Dougherty
Birga
Raymond Agoult
Joe Meek
Chandler
Ford
Johnny Douglas
Adams
Mitch Miller
Heath
Vincent Youmans
Eric Coates
---


Listen to 'Music While You Work' played by Cecil Norman and the Rhythm Players
as broadcast on 28th. December 1959 from 4pm to 4:30pm.
MUSIC WHILE YOU WORK at 4:00 p.m. on 28th December 1959
played by Cecil Norman and the Rhythm Players
Calling All Workers (sig)
Oh, Mr.Porter
If you're Irish, come into the parlour
I'm 'Enery the Eighth, I am
The Lads in Navy Blue
Bit of a ruin that Cromwell Knocked About
When Johnny Comes Marching Home
Funiculi, Funicula
The Strings of my Guitar
Toby's Walk
Falling in Love Again
Maybe this Year
Silver Threads amongst the Golden
Eighteenth Century Rock
Honouring the Haggis
Limehouse Blues
Chinatown
Smalltown Parade
Carina
That's my Weakness Now
The More we are Together
Let's have Another One
Blue Room
Calling All Workers (sig)
Eric Coates
Thomas Le Brunn
Miller
Weston
Dacre
Sullivan
Furnell
Denza
Trad.
Ponticelli
Hollander
Stellman
Rexford
Jimmy Leach
Raymond Agoult
Braham
Schwartz
Cecil Norman
Poes
Green
King
Prince
Richard Rodgers
Eric Coates
---


Listen to Piano Playtime played by Cecil Norman
as broadcast around 1954.
---


Listen to Cecil Norman and the Rhythm Players
playing 'That Certain Feeling' by George Gershwin
(45 second clip)
---
MUSIC WHILE YOU WORK at 10.31 a.m. on 7th October 1958
played by Cecil Norman and the Rhythm Players
Calling All Workers (sig)
Friends and Neighbours
I'm Sorry I Made You Cry
Come Dancing
Blue Moonlight
Twilight Time
Return to Me
Near You
Ad Infinitum
All the Nice Girls Love a Sailor
Fall In and Follow Me
I Do Like to be Beside the Seaside
Put Me Amongst the Girls
Hello, Hello, Who's Your Lady Friend
Take Me Back to Dear Old Blighty
Fiesta
Father's Doing Fine
Little Serenade
Sugar Moon
Calling All Workers (sig)
Coates
Scott
Clesi
David
Norman
Ram
Lombardo
Craig
Baynes
Scott
Scott
Kind
Murphy
Godfrey
Scott
Coles
Smart
Ferrio
Wolfe
Coates
---