Jimmy Leach was born in Stockport, Cheshire on 6th November 1905. Although remembered today as an organist, pianist and composer, he actually started his working life in engineering. He subsequently moved on to stockbroking and at one time even studied dentistry! At the age of 21, however, he realised that his heart was in music and began full-time professional work with Henry Hall at Gleneagles.
In 1934 he joined Francis, Day and Hunter and started composing, soon having a big hit with 'The Little Boy that Santa Claus Forgot', which he co-wrote with Tommy Connor and Michael Carr. His next assignment was to write the Grosvenor House floor-show 'The Circus of Beauty' on behalf of the Music Corporation of America (MCA), establishing what was to become an important side of his career, that of composer. Indeed, whilst he is best known as an instrumentalist, Jimmy Leach composed a considerable number of light pieces. Titles include 'Smash and Grab', 'Neptune's Holiday', 'Montego Bay', 'Café Sous Les Arbres', 'Toujour Le Vin Blanc', 'Russian Salad', 'A Bedouin in Baghdad' and 'Piping Hot'. Some of these pieces were in the repertoires of the BBC Scottish Variety Orchestra and the BBC Midland Light Orchestra as well as outside orchestras. Sadly, much of his music is no longer heard, although 'Piping Hot' is occasionally played by military bands. Jimmy Leach also wrote the music for the show 'Someday Soon'. On the performing side, he made many records for Columbia and broadcast with Sandy Macpherson in 'String Along With Sandy'.
In 1939, Jimmy Leach joined forces, as pianist, with Hammond organist Harry Farmer in a trio called Organola (signature tune Nola) which, by the following year had become The Organolists. They were the first band to broadcast in 'Music While You Work', on 23rd June 1940. Jimmy Leach later took over the Hammond organ, as well as the sole directorship of the group, which grew to four and eventually five players. On some of their records a violin or clarinet can be heard in the ensemble, the title of which was changed during the war to the New Organolians. By the early sixties it was known as Jimmy Leach and his Organolian Quartet, the instrumentation at this time being: Hammond organ, piano (Harry Hayward), bass, drums and guitar.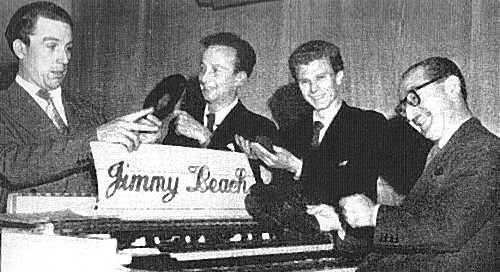 Jimmy Leach and his Organolians
The group was regularly heard on 'Bright and Early' during the fifties, on 'Morning Music' during the sixties and in an amazing 256 editions of 'Music While You Work' spanning 27 years, the group becoming virtually synonymous with the show. When Jimmy Leach was invited to play the 20th anniversary edition on 24th June 1960 (curiously, a day late) he wrote in the Radio Times: 'We made the first broadcast from Maida Vale, shortly before I went into the RAF and, until I went overseas, I came back regularly to play again. When I was stationed up North, I used to cadge lifts in Blenheim bombers to get to London on time. The music was the same as now — tuneful old favourites but few pops'. When Jimmy played the 25th anniversary edition in 1965, the BBC managed to get the day right!
The Organolians were classed as a dance band but nevertheless included rhythmic light music novelties in their programmes. The popularity of the group was no doubt enhanced by the fact that, during the course of each programme, Jimmy Leach would, on several occasions, move from the organ to join Harry Hayward at the 'top end' of the piano for medleys of familiar tunes. The effect was unusual, to say the least, as Jimmy Leach had developed a pianistic style that seemed to emulate a rapidly played ukulele! The Organolians undertook summer seasons, sometimes at Aberystwyth and were often featured on television in live summer seaside programmes, having their own spot each week — a sort of MWYW in miniature in which Jimmy moved from organ to piano for the duets. I can still see his beaming face as his hands shot up and down when he produced the 'ukulele effect'. He seemed to thoroughly enjoy himself!
Most of his post-war broadcasts came from Manchester and, in addition to the Organolians, he had a resident organ spot with the BBC Northern Dance Orchestra in their series 'Make Way For Music'.
Jimmy Leach was one of the most popular and frequent contributors to 'Music While You Work' and, having participated on the first day in 1940, it was particularly appropriate that the band should bring the series to a conclusion on 29th September 1967. Jimmy Leach was very disappointed when the show ended. 'Music While You Work was my life!', he said. He never broadcast again.
Jimmy Leach died in 1975.
---


Listen to 'Music While You Work' played by The Jimmy Leach Organolian Quartet
The date of this broadcast is believed to be 10th December 1959 on the BBC Light Programme at 10.30 a.m.
The programme includes: Tiger Rag, Little Donkey, 18th Century Rock (Leach), Snowcoach, Swanee.
---


Listen to 'Music While You Work' played by Jimmy Leach and his Organolian Quartet
as broadcast on the BBC Light Programme at 10.31 a.m. on 31st March 1966
MUSIC WHILE YOU WORK
played by Jimmy Leach and his Organolian Quartet
on 31st March 1966
Calling All Workers (Sig)
Mexican Hat Dance
Medley:
. I Love a Lassie
. Stop your tickling jock
. The end of the Road
Medley:
. Coming Round the Mountains
. Poor Old Joe
. Old Macdonald
. Camptown Races
Emergency Ward Ten Theme
Galway Bay
Medley:
. Bill Bailey
. Who were you with last night?
. If I could plant a tiny seed of love
Medley:
. Alice Blue Gown
. Oh,oh,Antonio
. Ou la,La,oui,oui
Rose of Tralee
The Shrimp
Medley:My Fair Lady
. On the Street where you live
. I could have danced all night
Frimley Green
Eighteen Carat Samba
Medley:
. Lily of Lagoona
. Goodbyee
. Pink Elephants
Calling All Workers (Sig)
Eric Coates
Trad. arr Leach
Harry Lauder



Trad. arr. Leach




Peter Yorke
Colohan

Cannon
Godfrey/Sheridan
Macdonald

Tierney
Lipton
Steelman
Trad.arr. Leach
Rice
Frederick Loewe


Kenneth Baynes
Herrmann

Stuart
Lee
Dixon
Eric Coates
---


Listen to 'Music While You Work' played by The Jimmy Leach Organolian Quartet
as broadcast around 1960.
---


Listen to 'Music While You Work' played by Jimmy Leach and his Organolians
as broadcast at 10.31 a.m. on 29th September 1967
MUSIC WHILE YOU WORK at 10.31 a.m. on 29th September 1967
played by Jimmy Leach and his Organolians
Calling All Workers (Sig)
Pepe the Puppet
Medley
. The Lincolnshire Poacher
. A-Hunting We Will Go
. The Keel Row
. Mademoiselle from Armentieres
. St. Patrick's Day
. Charlie is My Darling
Penny Lane
Two Streets
Medley:
. Let Him Go, let Him Tarry
. The Wearin' o' the Green
. Men of Harlech
The Shrimp
If I Were a Rich Man
Jamaica Walk
Beautiful Dreamer
Medley:
. The Fairy Princess
. Highland Laddie
. Kate Dalrymple
. Bonnie Dundee
. The Wee Cooper O'Fife
. Will Ye No Come Back Again
Medley:
. Put On Your Ta-Ta Little Girlie
. Get Out and Get Under
. Say It With Music
Calling All Workers (Sig)
Coates
Leach
Trad. arr. Leach






McCartney
Andrews
Trad. arr. Leach



Rico
Bock
Norman
Foster
Trad. arr. Leach







Leigh
Kirby
Berlin
Coates
---


Listen to 'Can You Beat Jim?'
Jimmy Leach plays and sings requests
---