A.J. Powell and his Banjo Octet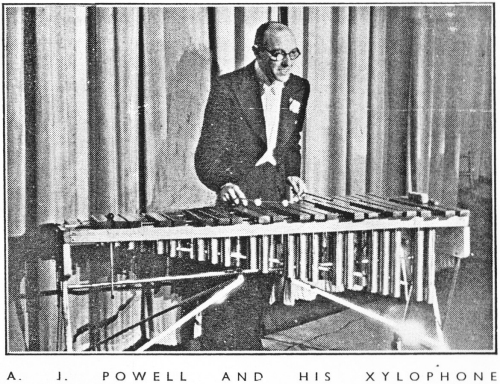 A.J. Powell, who formed his Octet at the beginning of 1938, held an amazing number of big appointments in the dance-band and entertainment world. These included that of bandmaster on the Empress of Britain, conductor at the Dreamland Super Cinema, Margate, Manager of the Llandudno Symphony Orchestra, Manager for the late John Birmingham at the Hotel Cecil, and dance-band positions at the Ritz and Savoy Hotels. Powell gave some 300 broadcasts, recorded with all the principal gramophone companies, and took part in a great many films.


Listen to 'Music While You Work' played by A.J.Powell and his Banjo Octet
as broadcast on 12th October 1942.
MUSIC WHILE YOU WORK
12th October 1942
played by A.J. Powell and his Banjo Octet

A.J.Powell
Calling All Workers (sig)
March: El Capitan
Love Nest
A Bright Song
Last Call for Love
Marche Militaire
You Walk By
You are my sunshine
Always in my heart
Musical Comedy Selection:
. Fascinating Rhythm
. Lady be good
. The Riff Song
. My heart stood still
There's a cowboy ridin' thru' the sky
March:Washington Post
Pennsylvania Polka
Jingle jangle jingle
I came here to talk to Joe
Punch and Judy Show (A.J.Powell xylophone)
White Christmas
Hey Mabel
Four Leaf Cover
Tiger Rag
Calling All Workers (sig)
Eric Coates
J.P. Sousa
Noel Gay
Horatio Nicolls
Sun, Lane
Franz Schubert
Wayne
Daxis
Ernesto Lecuona

George Gershwin
George Gershwin
S. Romberg
Richard Rodgers
Carr
J.P. Sousa
Lee
Lilley
Brown
Bowen
Irving Berlin
Stryker
Loer
Dale
Eric Coates
---