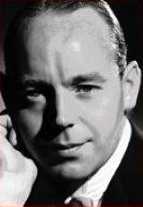 George Scott-Wood was born in Glasgow on 27th May 1903. He studied the piano from the age of five with Miss Hoffman, Crossland Hirst and Philip Halstead (a pupil of Leschetizky). He performed his first concerto, Beethoven's Third in C Minor, at the age of 16, winning awards at the Glasgow and Edinburgh Music Festivals. He also won (with his brothers) the famous Marchant Cup for Chamber Music. In 1925, George toured the USA, making many concert appearances.
His career in popular music started sometime during the twenties when he played with a Glasgow University Band called the Five Omega Collegians, touring and recording with them until their disbandment in 1928, at which time he joined Jay Whidden's Band for a two-year spell as pianist and arranger.
In 1930 he became Director of Light Music for Parlophone (under Oscar Preuss) and subsequently for the other three EMI companies — HMV, Regal-Zonophone and Columbia - a post which he held until 1939. The thirties was a decade in which George Scott-Wood really established himself in a big way Apparently, he made more records than anyone else in Britain, either directing one of his own combinations or accompanying famous artists, often under pseudonyms or anonymously. He conducted accompaniments for an impressive list of performers which included Richard Tauber, Sir Harry Lauder, Beatrice Lillie, Larry Adler, Gracie Fields, Vic Oliver, Stanley Holloway, Max Miller, Evelyn Laye and Ivor Novello, to mention but a few of the 80 or so artists he backed! He recorded about 20 sides with the New Mayfair Dance Orchestra in 1935 after Ray Noble left for America.
It was in 1934 that Scott-Wood's Six Swingers came into being. This was a rather superior jazz group which really caught the public's attention during its seven-year existence and produced over 50 recordings. George was later described as 'the pioneer of swing music in this country'. In the 1938 Daily Mail radio popularity poll, the Six Swingers were voted top of radio entertainment, with all other dance music grouped together in seventh place.
Apart from his considerable talents as a virtuoso pianist, arranger, conductor and composer (of which more later), George Scott-Wood was regarded as one of the country's leading piano-accordion exponents. This instrument has, unfortunately, gone out of fashion in recent decades and I know of people who do not even regard it as a proper musical instrument! Nevertheless, over the years there have been, and still are, many brilliant exponents of the instrument. George Scott-Wood was the author of the first ever comprehensive accordion tutor, published in 1930; indeed, he is credited with having introduced the piano accordion to Great Britain, becoming its first professional exponent.
Having spent some years singing Spanish tangos to his own accordion accompaniment, it isn't surprising that his interest was such that in 1934 he became MD of the London Accordion Band, a Regal-Zonophone house band. By 1940, he had formed his own accordion band. This, initially, had nine accordions but, after the war, it reduced to four accordions, bass, drums, guitar and Hawaiian guitar (later vibraphone), with George directing operations from the piano. It always surprises me that accounts of George Scott-Wood's career concentrate on the Six Swingers with little reference to his work with accordions which, after all, represented a much larger part of his career.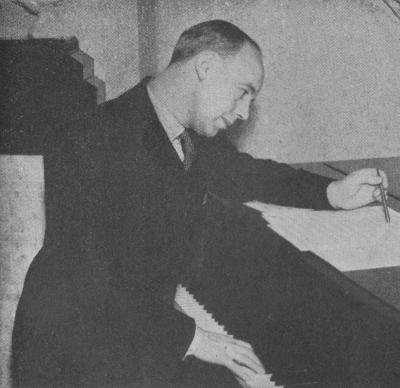 From 1943 to 1947, George topped theatre bills as a solo pianist, travelling extensively up and down the country. He spent much time visiting garrison theatres, hospitals, factories, remote camps and action stations.
By the end of the war, George Scott-Wood and his Accordion Band resumed regular broadcasting and were featured in 'Accordion Club', 'Bright and Early' and, of course, 'Music While You Work', to which they contributed 214 programmes. As a piano soloist George was often featured in 'Piano Playtime'. Even the BBC had to admit that George was an excellent musician and an ingenious arranger — on one occasion I can recall him being described as a 'master craftsman of many years' standing'.
He re-formed his Six Swingers briefly in 1950, but it did not achieve its former success. He also suggested to the BBC that he should be allowed to form a 23 piece theatre orchestra, using his accordion band as a nucleus, but the idea fell on stony ground, as did his suggestion that he should adopt an Italian alias! (Perhaps he had in mind the success of Primo Scala?)
For many years, popular music at the BBC was handled by the Variety Department (dance music) and the Light Music Department (light orchestras and groups). Despite his long association with dance music, George had always been sympathetic to light music and in 1946 had applied, albeit unsuccessfully, for the position of Head of Light Music at the BBC.
Although contracted to the Light Entertainment Department, successor to the Variety Department, George had often included items of light music in his programmes, so in 1957 he applied for an audition with the Light Music Department for a slightly smaller combination which would specialise in this repertoire. The new seven-piece ensemble — George Scott-Wood and his Music — gave its first broadcast in early 1958, the instrumentation being three accordions, piano, guitar, bass and percussion. For a while he continued broadcasting on 'Music While You Work' with the nine-piece accordion band, no doubt hoping to reap the benefits of being contracted to two departments. As stated elsewhere in these profiles, this was not deemed a satisfactory situation by the departments concerned or, indeed by the BBC. So by 1959 all of George's broadcasts, including MWYW, were given by the seven piece group, which also played regularly in 'Morning Music' and other programmes.
George was a prolific composer. In 1938, he recorded his 'Dainty Debutante', a brilliant piano feature, with his salon orchestra. The Accordion Band recorded his 'Flying Scotsman' and 'Corn on the Cob' in 1950. Other Scott-Wood 'specials' included 'London Caprice', 'Ici on parle Francais', 'Deb-on-air', 'Serenade to Evening', 'Song without Words', 'A Landler for Sandler', 'Holiday for Accordions', 'Cuba Boogie', 'Penny Farthing Polka', 'The Laughing Seine', 'Conchita's Song', 'Happy Fingers', 'El Cochero', 'Rumbaba', 'Amontillado' and 'Champagne Galop' from his suite 'Carnival of Bacchus', 'Sirocco', 'Clip-Joint', 'Fab', and his famous signature tune, 'Shy Serenade'.
Nowadays, some of George Scott-Wood's vintage recordings are appearing on compact disc, including several volumes of the International Novelty Orchestra (house band of Regal Zonophone) for which he was reliably believed to have been the Musical Director (albeit anonymously).
George Scott-Wood and his Music could always be relied upon to provide a bright, tuneful programme — immaculately played. It included such virtuoso personnel as Gerald Crossman and Henry Krein. They played in MWYW right up to the end in 1967 and were then dropped from broadcasting until making a brief come-back in 1970 and 1971 on the Sam Costa Show.
George Scott-Wood, who was married with two children, died on 28th October 1978 at the age of 75.


Listen to 'Music While You Work' played by George Scott-Wood and his Music
as broadcast on The Light Programme on 31st. August 1964.
MUSIC WHILE YOU WORK
played by
George Scott-Wood and his Music
at 10:31am on 31st August 1964
Calling All Workers (Sig)
Whiskey Galore
I love my Chilli Bom Bom
Is it true what they say about Dixie?
Hello Dolly
Answer Me
L'Hirondelle
Autumn Leaves
Rhum-Baba
Maiden Over
Last night on the Back Porch
If I Ruled the World
Ain't She Sweet
Calling All Workers (Sig)
Eric Coates
Fred Hartley
Walter Donaldson
Caesar
Jerry Herman
Winkler
Henry Krein
Kosma
George Scott-Wood
Black
Nacio Herb Brown
Cyril Ornadel
Yellen
Eric Coates
---


Listen to 'Music While You Work' played by George Scott-Wood and his Music
as broadcast on The Light Programme on 19th. May 1966.
MUSIC WHILE YOU WORK
played by
George Scott-Wood and his Music
at 3:31pm on 19th May 1966
Calling All Workers (Sig)
Dixie Doodle Rag
Spanish Flea
Ballad of the Green Berets
Prima vera
Tulips from Amsterdam
Limehouse Blues
Should I
Zaza
The Enchantress
Apples and Bananas
Fab
Freelance
Soho Fashion
Heartaches
Beginning to see the light
Twelfth Street Rag
Pass me by
Calling All Workers (Sig)
Eric Coates
Siebert
Wechter
Sadler/Moore
Langford
Arnie
Braham
Nacio Herb Brown
Fred Hartley
Gardner
Scott
George Scott-Wood
Burt Rhodes
Peter Yorke
Hoffan
Duke Ellington
Bowman
Coleman
Eric Coates
---


Listen to 'Music While You Work' played by George Scott-Wood and his Music
as broadcast on The Light Programme on 18th. March 1963.
MUSIC WHILE YOU WORK
played by
George Scott-Wood and his Music
at 10:31am on 18th March 1963
Calling All Workers (Sig)
Cuban Boy
Maigret Theme
Toytown Swing
Blue Waters
Hawaiian War Chant
Riviera Nights
Senora
Brise de Paris
Ici on parle Francaise
Cafe Parisienne
Running Wild
Sidewalk Serenade
Calling All Workers (Sig)
Eric Coates
Frank Chacksfield
Ron Grainer
Edward Rubach
James Warr
Ray Noble
Alstone
Tibbles
Albert Delroy
George Scott-Wood
Lewis
Arthur Gibbs
Fotine
Eric Coates
---


Listen to 'Music While You Work' played by George Scott-Wood and his Music
as broadcast on 10th. August 1960.
MUSIC WHILE YOU WORK
10:31am on 10th. August 1960
played by George Scott-Wood and his Music
Calling All Workers (Sig)
Dude Ranch
Mi amor
Tom Pillibi
Eternally
Toni's Tune
All Hands on Deck
Silly Little Tune
Spinning Wheel
Angela Mia
Bonita
Angry
Luxembourg Polka
Calling All Workers (Sig)
Eric Coates
Jack Coles
Harry Rabinowitz
A. Popp
Charles Chaplin
Donald Phillips
George Scott-Wood
P.Vance
Marian Rawicz
P.Conrad
Leslie Steele
D.Neouri
E.Heisdorff
Eric Coates
---


Listen to 'Music While You Work' played by George Scott-Wood and his Accordion Band
as broadcast on 27th. April 1955.
MUSIC WHILE YOU WORK
10:30am on 27th. April 1955
played by George Scott-Wood and his Accordion Band
Calling All Workers (Sig)
Temptation Rag
Please Opportunity
Wait for me Darling
Naughty Lady of Shady Lane
Under the Bridges of Paris
This 'ole House
Ole Guapa
Happy Days and Lonely Nights
Amontillado
Honey Love
Fiesta
Young at Heart
Family Joke
Lights of Paris
Calling All Workers (Sig)
Eric Coates
Herbert Lodge
Norman Wisdom
Barr
Tepper
Vincent Scotto
Hamblen
Malando
Rose
George Scott-Wood
McPhatter
Jack Coles
Richards
Eric Spear
Tolchard Evans
Eric Coates
---
MUSIC WHILE YOU WORK
3.45 p.m. on 27th April 1959
played by George Scott-Wood and his Accordion Band
Calling all Workers (Sig)
Don Roberto
Last Night on the Back Porch
Pigalle
Chinchilla
Drifting and Dreaming
Tonight
Ici on parle Francaise
Positano
I Feel Pretty
Juke box Cha Cha
Hawaiian War Chant
Piccaninny
I'm Getting Sentimental over You
Cafe Bonheur
Sometimes
Dusky Aristocrat
Thank Heaven for Little Girls
The Night they invented Champagne
Calling all Workers (Sig)
Eric Coates
Albert Delroy
Schraubatader
G.Almer
Starr and Wolfe
Alstyne
Leonard Bernstein
George Scott-Wood
Jack Coles
Leonard Bernstein
Aires
Ray Noble
Roberts
Bassman
Henry Krein
Carbutt
Norman Whiteley
Frederick Loewe
Frederick Loewe
Eric Coates
---
MUSIC WHILE YOU WORK
3.45pm. on Tuesday 3rd. November 1959 - Light Programme
played by George Scott-Wood and his Music
Calling all Workers (Sig)
What a Little Moonlight Can do
Broken-hearted Melody
Little Swiss Miss
Souvenirs
Pigalle
Lavender Blue
Nola
Summer of the Seventeenth Doll
Shy Serenade
Tango Monaco
Side Saddle
Jamaica Walk
The Petite Waltz
Tip Toe Tango
The Heart of a Man
Tom Thumb's Tune
Carnival Time
Fiesta
Calling all Workers (Sig)
Eric Coates
Harry Woods
S. Edwards
Gerald Crossman
Cy Cohen
G. Almer
E.Daniel
Felix Arndt
N. O'Brien
George Scott-Wood
L.Herbert
Russ Conway
Cecil Norman
Joe Heyne
Eric Jupp
Peggy Cochrane
P.Lee
Martin Lewis
Jack Coles
Eric Coates
---