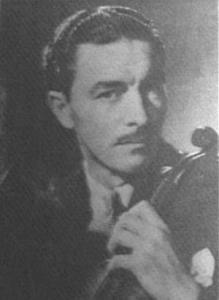 Fredric Cooper and his Tipica Orchestra was formed especially for radio just after the war and with many a half-hour spot allocated to live studio light music in those distant days, there was no shortage of broadcasting opportunities for the many speciality orchestras, each having their own style. The Tipica Orchestra made the first of its 143 appearances on 'Music While You Work' in 1951, playing tuneful light music with the emphasis on Latin American rhythms. Little is known about Fredric Cooper other than the fact that he was a violinist leading an orchestra at the Lyons' Corner House in London's Coventry Street back in the late thirties when he would 'table hop', playing requests for the restaurant's customers (whether they wanted it or not!).
Accordionist Gerald Crossman played with the Tipica Orchestra throughout its existence, together with other distinguished musicians such as trumpeter Bill Shakespeare and the famous classical clarinettist Jack Brymer, who apparently loved doing MWYW. Several of the 14 players in the orchestra found themselves doubling on percussion during the Latin numbers. The orchestra was also heard many times in 'Bright and Early' and 'Morning Music'. By the mid-sixties, orchestras such as Fredric Cooper's were deemed 'unfashionable' by certain BBC officials and with crude pop music gradually taking over the airwaves Fredric Cooper was displaced, along with many other orchestras and ensembles who dared to purvey cheerful and tuneful music.
According to the Radio Times, a tipica orchestra is one whose repertoire is always typical of its country of origin, but, as Fredric Cooper sometimes played contemporary showtunes as rumbas and sambas, I do not think that he was governed by that definition! Fredric Cooper is thought to have retired to the West Country, but if he is still alive, he has certainly disappeared into the mists of time.


Listen to 'Music While You Work' played by Fredric Cooper and his Tipica Orchestra
as broadcast on 20th July 1963.
MUSIC WHILE YOU WORK
played by Fredric Cooper and his Tipica Orchestra
on The Home Service at 10.31am on 20th July 1963
Calling All Workers (sig)
The Pied Piper
Espana
She's new to you
Fandango
A Garden in Granada
More
Al Rito del Cha Cha
Israeli Carnival
Sirocco
Mercury gets the Message
Lady of Spain
Bistro
Tico-Tico
Calling All Workers (sig)
Coates
Steve Race
Emil Walteufel
Owen and Silver
Frank Perkins
Lewis
Oliviero
Stone
Donald Phillips
George Scott-Wood
Ron Goodwin
Tolchard Evans
Anders
Abreu
Coates
---


Listen to 'Music While You Work' played by Fredric Cooper and his Tipica Orchestra
as broadcast at 3.31 p.m. on 6th October 1961.
MUSIC WHILE YOU WORK at 3.31 p.m. on 6th October 1961
played by Fredric Cooper and his Tipica Orchestra
Calling All Workers (sig)
El Relicario
Whatever Will Be Will Be
Romantica
La Cannebiere
Israeli Carnival
Moonlight Over Tahiti
Cha Cha Cha
Hyde Park Polka
Hear My Song, Violetta
Consider Yourself
Shy Serenade
La Petite Polka
Portuguese Party
Around The World
How Wonderful to Know
Song of the Gaucho
Tinkle Box Samba
Selection: Fifty Years of Song
Calling All Workers (sig)
Coates
Padilla
Livingston
Rascel
Agoult
Phillips
Bridgmont
Ramos
Chacksfield
Klose
Bart
Scott-Wood
Paramour
Vinter
Young
D'Esposito
Manilla
Rubach
arr. Kennett
Coates
---
Light Programme at 8.30 a.m. on 5th. July 1953
Played by FREDRIC COOPER AND HIS TIPICA ORCHESTRA
Camirata de tu Casa
Twilight
Waltz for a Debutante
Don Roberto
Jealousy
Limelight Theme
The Girl without a Name
The Whistling Violin
Serenade to Eileen
Pretend
Tzena, Tzena
Hernandez
Deniz
Eric Denson
Albert Delroy
Jacob Gade
Charles Chaplin
Dana Suesse
Ray Martin
Edward Sears
Frank Laverne
Spencer Ros
---


Listen to Fredric Cooper and his Tipica Orchestra
playing 'Tanto Gusto' by Gerald Crossman
(60 second clip)
---