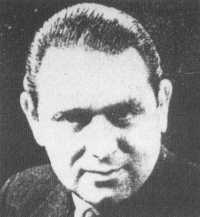 Long associated with the theatre, Harold Collins and his orchestra was one of the best light orchestras of its kind on the radio. Harold Collins was born Hyam Skollin in Birmingham on the 4th. June 1901, his family having fled the pogroms in Russia. Starting as a concert party pianist at the age of 18, Harold spent some years with the Archie Pitt Organisation as a conductor in revue, before becoming resident conductor at the Palace, Plymouth from where he first broadcast in 1936. Moving to the Lewisham Hippodrome In London, he became a regular broadcaster. When Music While You Work started in 1940, Harold Collins became one of the regular contributors, his orchestra providing 227 editions during the ensuing twenty-five years. They also produced a considerable number of records for the Decca Music While You Work label which acted as a companion to the radio series. Among the other programmes in which the orchestra was regularly featured, was the daily breakfast-time programme Morning Music.
Harold acted as Musical Director for a series of stage shows in London and the provinces. He was at the London Coliseum in 1947, the London Casino in1951/2 with Folies Bergere and toured with The Student Prince during the fifties. In 1956 Harold Collins and his Orchestra made the first of many television appearances and in 1961, Harold conducted the Jack Parnell orchestra for a rather special edition of Sunday Night at the London Palladium which, due to a strike in the entertainment industry, featured just Bruce Forsyth and Norman Wisdom (for whom Collins was M.D). This often repeated show provided Harold Collins with the opportunity to participate in one of the routines, in which he "refused" to play for Wisdom, resulting in the comedian jumping into the pit and conducting a frenzied cachophany!
In the early sixties, when the London Palladium was closed for refurbishment for a few months, the Sunday night television show transferred to the Prince of Wales theatre, for which Harold Collins was Musical Director. Consequently, his orchestra was seen and heard in this high-profile show every week. The BBC did not like their broadcasters appearing on ITV and (coincidentally or otherwise) did not use the Harold Collins orchestra during this period, and even when the television work ended, its radio appearances became less frequent. It was heard for the last time on September 1st 1964. A dynamic and polished combination of twenty-three players, it was one of the last traditional theatre orchestras to broadcast.
Harold Collins died in Spain in 1968.


Listen to 'Music While You Work' played by Harold Collins and his Orchestra
as broadcast on 10th April 1962.
MUSIC WHILE YOU WORK
at 3.31 p.m. on 10th April 1962
played by Harold Collins and his Orchestra
Calling All Workers (sig)
Haifa Festival
Moon River
Felicidades
Sous les Ponts de Paris
Selection: Stop the World
Alcantara
Medley: Norman Wisdom Melodies
. Don't Laugh at Me
. Beware
. Please Opportunity
Vienna Dash
Exodus
Leroy Anderson Medley
. Belle of the Ball
. Blue Tango
. Promenade
. Trumpeter's Lullaby
. Sleigh Ride
Television Medley
. Coronation Street
. This is Your Life
. Dixon of Dock Green
Birichino
Selection: West Side Story
Calling All Workers (sig)
Coates
Isra
Mancini
Rosada
Scotto
Newley/Bricusse
Arnold
arr. Collins



Strauss
Gold
Anderson






Spear
Turner
Warner/Darnell
Marland
Bernstein
Coates
---


Listen to 'Music While You Work' played by Harold Collins and his Orchestra
as broadcast on 1st. September 1964.
MUSIC WHILE YOU WORK
at 3.31pm on 1st. September 1964
played by Harold Collins and his Orchestra
Calling All Workers (Sig)
Selection: The Student Prince
El Novillero
The way you look tonight
Charmaine
Rhumbelinda
Up with the lark
Israeli Carnival
Selection:South Pacific
'appy Harry
Medley: The Petite Waltz
. Petite Waltz
. Padam Padam
. Domino
. Petite Waltz
Selection: The Spice of Life
Carlos' Theme
Memories of Dvorak
Calling All Workers (Sig)
Eric Coates
Sigmund Romberg
Edward Rubach
Jerome Kern
Erno Rapee
Eric Jupp
Cecil Norman
Donald Phillips
Richard Rodgers
Eric Jupp
arr: Harold Collins




arr: Ronald Hanmer
Ivor Slaney
arr: Felton Rapley
Eric Coates
---


Listen to 'Music While You Work' played by Harold Collins and his Orchestra
as broadcast on 22nd. April 1960.
MUSIC WHILE YOU WORK
at 3.45pm. on 22nd. April 1960
played by Harold Collins and his Orchestra
Calling All Workers (Sig)
Entrance of the Acrobats
Westminster Waltz
Donkey Ride
Guys and Dolls (Selection)
Janetta
Holiday Tune
Valse Hindoue
Jimmy O'Goblin
Holiday in Havana
Flower Drum Song (Selection)
Country Rig
La Mer
Can-Can (Selection)
Calling All Workers (Sig)
Eric Coates
Culotta
Robert Farnon
Albert Delroy
Frank Loesser
Eric Jupp
Jay Lenn
Colombo/Gheston
Van Phillips
Cyril Watters
Richard Rodgers
Clifford/Payne
Charles Trenet
Cole Porter
Eric Coates
---


Listen to Harold Collins and his Orchestra
playing 'Up With the Lark' by Cecil Norman
(60 second clip)
---
MORNING MUSIC -Home Service- 8.23 a.m. January 7th 1955
played by Harold Collins and his Orchestra
Stars and Stripes
Ancliffe in the Ballroom
A la Can-Can
George Gershwin Interlude
Peanut Polka
Dance of the Cuckoos
Selection: Can-Can
Sleigh Ride
Fairground Polka
Espanola
Sousa
arr. Don Bowden
Gilbert Vinter
arr. Arthur Birkby
Robert Farnon
arr. Fred Hartley
Cole Porter
Leroy Anderson
Franz Salmhoffer
arr.Ronald Hanmer
---