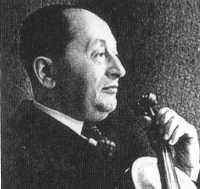 It is perhaps surprising that Isy Geiger should have commenced broadcasting in this country at the age of 65, even more so is the fact that nearly 25 years later he was still giving public concerts; but Isy Geiger was no ordinary musician.
He was born of a family of musicians on 20th November 1886, in Yarowslav. After early tuition from his father, he continued his studies in Berlin and joined the Berlin State Opera Orchestra prior to the First World War. Around 1920, he became leader (concertmaster) of the orchestra at the Viennese Carl Theatre, where many successful Viennese operettas had received their first performances. He later settled in Vienna, where he formed his first orchestra, becoming one of Vienna Radio's most frequent and popular broadcasters. Many of his broadcasts were relayed to foreign radio stations. His success led to his receiving an exclusive contract to the Colombia Gramophone Company in Vienna (not to be confused with the Columbia record company in Britain and America).
The Italian Broadcasting Company offered him an orchestra of 30 music professors, their task being to reorganise the broadcasting of light music from their stations at Turin, Milan and Rome.
One day, when Isy was playing a Franz Lehar selection in a café, he noticed that the composer himself was sitting in the audience! Lehar called him over and suggested certain modifications to the arrangement. These were implemented and Isy was later presented with a photograph bearing the inscription: 'To Isy Geiger, the distinguished interpreter of my compositions, full of heart and soul. In friendship, Franz Lehar'. Isy Geiger treasured this throughout his life, together with an autographed score with the message: 'To my dear friend Isy Geiger, in thankful appreciation of the outstanding performances of my compositions — Emmerich Kalman'.
In March 1938, following the Anschluss (Hitler's march on and annexation of Austria), Isy Geiger fled from Vienna to Poland and subsequently to Britain. Having narrowly escaped capture by a German soldier by pretending to be a foreigner (he was an Austrian citizen), he was advised to leave the country immediately. The late Hans Geiger, Isy's son, once told me that he vividly remembered that day and still had a mental picture of his father sitting on a chair in his kitchen trembling with fear.
Isy's cellist brother Joseph had been in Britain for some time and directed a small orchestra at London's Claridge's Hotel, from where he regularly broadcast as 'Geiger and his Orchestra', even doing some early 'Music While You Work' programmes. It was Isy Geiger's greatest dream that he too would have a hotel residency, but this was not to be. He did audition at the Dorchester Hotel, but as a foreigner he was not permitted to work, at least, not at first. He secured a one-off broadcast in 1943, but according to Hans Geiger this was purely for overseas listening.
The next few years were somewhat barren for Isy Geiger. As a foreigner he was not permitted to join the Musicians' Union, but, as it was necessary to be a member in order to work with other musicians, he had to be content with a spell in music publishing. This must have been frustrating for such an active musician. After the ludicrous restrictions were lifted, he formed an orchestra, Isy Geiger and his Viennese Music, and auditioned for the BBC in 1951 at the age of 65! His first broadcast was a 45-minute slot on the Light Programme on Friday 7th September at 5.30 p.m. The 17 players included Ralph Elman, Michael Spivakovsky, Max Jaffa, Charles Vorsanger, Henry Elman, Louis Mordish and Robert Keys. The orchestra was paid £65 — in total, not each!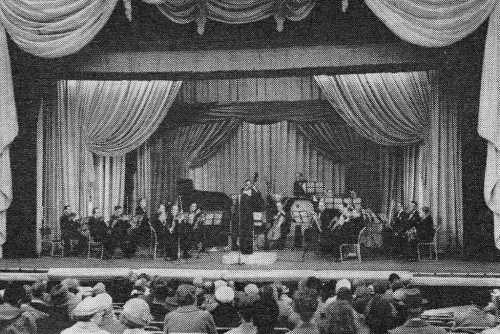 Isy Geiger and his Viennese Music playing at the Battersea Park Concert Pavilion
From there on, Isy Geiger broadcast regularly, sometimes in announced programmes with guest singers but also in 'Morning Music' and 'Music While You Work', which he joined in 1956. He conducted 51 editions, playing everything from 'Die Fledermaus' selections to Al Jolson hits. It was a characteristic of Isy Geiger to regard every job as the most important thing that he had ever done and, being something of a perfectionist, it was not surprising that some of his musicians found him a hard task-master.
Although he enjoyed everything he did, MWYW was not his favourite format. To Isy it seemed rather like 'working a treadmill', churning out one piece after another. The orchestra had a unique style and its interpretations of Viennese music had a certain authenticity, which was probably only to be expected from someone whom had spent much of his life in Vienna.
Although an excellent musician, Isy wasn't the easiest of conductors to follow. The fact that he never really mastered the English language didn't help either. His son Hans, who led the orchestra in later years said that his father often infuriated him by assuming that just because he (Isy Geiger) had thought that a piece should be interpreted in a particular way, then the musicians would automaticaIly think likewise!
Despite his musical prowess, Isy Geiger was less adept at timing his broadcasts, which frequently overran. Indeed, I think it can be said that he was so absorbed in his music that he was almost unaware of the passage of time. On one occasion, believing that he was ahead of time in a live broadcast, he crept round the orchestra inserting an extra item into the musicians' pads. But just as he reached the back of the orchestra, the red light went out — the programme was finished!
In its later years, when MWYW was pre-recorded it was often recorded the day before transmission and composer Cyril Watters once recalled an occasion when he received an anxious telephone call from Isy Geiger, imploring him not to listen to a broadcast which he had just recorded, in which he had included Cyril's award-winning 'Willow Waltz'. Apparently he had speeded it up because the programme was in danger of overrunning, although he wished to assure Cyril that he would include it again in his next broadcast! This was typical of Isy Geiger, a gentle and kindly man (although this fact may not have always been apparent to musicians at rehearsals!). His pianist until 1963, the appropriately named Robert Keys, described him as 'a delightful character of a man,with a heart of gold. Would that more of my MD's had been like him.'
Isy Geiger was a prolific composer and arranger. Amongst his works are 'Schuhplattler', 'Carnival Galop', 'Vivat Polonia', 'Roumanian Gypsy Dances' and countless arrangements of pieces such as 'Waltzing through Old Vienna', 'Gay Carnival' (a selection of Viennese galops and polkas etc.), 'Tales of Offenbach' and 'Tel Avivia' (a brilliant selection of Israeli folk songs). In addition to broadcasting, Isy gave countless public concerts. For many years he gave Sunday performances with his 25-piece Viennese Concert Orchestra at the magnificent Concert Pavilion in Battersea Park, although the repertoire was rather more classical than is usually heard on bandstand concerts.
He continued with these concerts long after his broadcasting career ended in the mid-sixties. I have vivid memories of a week of twice-daily concerts by Isy Geiger at Victoria Embankment Gardens, London. The orchestra was assembled on the large stage, when the dressing-room door opened and a small, frail and rather serious-looking man of 87 emerged, only able to shuffle very slowly to the rostrum. The limitations of age vanished, however, as soon as Isy Geiger lifted his baton. He was completely absorbed in the music he loved. Occasionally, he would grab a violin from the orchestra and play along with the music, such was his enthusiasm. When time ran out (he never completed his concerts!) the orchestra had to stop him because they wanted to go home. I spoke to him after one of these shows and he said: 'I would willingly play all night, if they let me, I love music so much!'
Isy Geiger worked almost until his death in February 1977 at the age of 90.


Listen to 'Music While You Work' played by Isy Geiger and his Orchestra
as broadcast on 4th. March 1961.
MUSIC WHILE YOU WORK
played by Isy Geiger and his Orchestra
BBC Home Service at 10.31am on 4th March 1961
Calling All Workers (Sig)
Good Old Vienna
Destiny Waltz
Boutade Basque
The Singer not the Song
Medley:
. Port au prince
. In Chambre Separee
. The Happy Wanderer
Are you lonesome tonight?
Poetry in motion
Schuhlplattler
Old Campaigner Galop
Musical Favourites Selection (part 2)
. Night they invented Champagne
. C'est Magnifique
. I Love Paris
. Wunderbar
. I was never kissed before
. We'll gather Lilacs
. Love is my reason for living
Calling All Workers (Sig)
Eric Coates
Schrammel
Sidney Baynes
M.Ruiz
P. Green

Bernie Wayne
R.Heuberger
Friedrich Moller
R.Turk
P.Kaufman
Isy Geiger
J.Strauss
arr.Isy Geiger
Frederick Loewe
Cole Porter
Cole Porter
Cole Porter
Vivian Ellis
Ivor Novello
Ivor Novello
Eric Coates
---


Listen to 'Music While You Work' played by Isy Geiger and his Viennese Music
as broadcast on 5th. October 1963.
MUSIC WHILE YOU WORK
played by Isy Geiger and his Viennese Music
BBC Home Service at 10.31am on 5th October 1963
Calling All Workers (Sig)
Radetsky March
Sel:Tales of Offenbach
Waltz:Roses from the South
Sel:Bouquet de Paris
Spanish Dance No.1
Cupid's Army
New Sullivan Selection
Calling All Workers (Sig)
Eric Coates
Johann Strauss
arr.Isy Geiger
Johann Strauss
Arr.Ronald Hanmer
Moskowski
Ibanez
arr.Dan Godfrey
Eric Coates
---


Listen to 'Music While You Work' played by Isy Geiger and his Viennese Music
as broadcast on 15th. April 1965.
MUSIC WHILE YOU WORK
played by Isy Geiger and his Viennese Music
BBC Light Programme at 3.31pm on 15th April 1965
Calling All Workers (Sig)
Die Fledermaus (Selection)
Radetsky March
Estudiantina
Elgen a magyar galop
Tel Avivia (Suite)
. Five Horas
. Kaddish
Crepuscule Tango
Louisette
Vivat Polonia
Musical Favorites Selection (Part 2)
. The Night they invented champagne
. C'est Magnifique
. I was never kissed before
. We'll gather lilacs
. Wunderbar
. Love is my reason
. I love Paris
The Boulevardier
Tales of Offenbach (Selection)
Eric Coates
Johann Strauss arr. Geiger
Johann Strauss
Emile Waldteufel
Johann Strauss
Isy Geiger


Bianco
Jacques Vallez
Isy Geiger
arr. Geiger
Frederick Loewe
Cole Porter
Vivian Ellis
Ivor Novello
Cole Porter
Ivor Novello
Cole Porter
Frederic Curzon
Jacques Offenbach arr. Geiger
---


Listen to 'Music While You Work' played by Isy Geiger and his Orchestra
as broadcast on 23rd. October 1962.
MUSIC WHILE YOU WORK
played by Isy Geiger and his Orchestra
BBC Light Programme at 3.31pm on 23rd October 1962
Calling All Workers (Sig)
Waltzing through old Vienna
Perpetuum Mobile
White Wedding
Fiesta in Brazil
Jangle Bells
Continental Galop
Guitar Tango
Marbella
Summertime
Biricino
Bouquet de Paris
Antonella
Swinging Sleighbells
Haifa Festival
Master Melodies
. Farondole
. Prelude
. Waltz
. Liebestraum
. Lustpiel Overture
Calling All Workers (Sig)
Eric Coates
arr. Isy Geiger
Strauss arr. Geiger
Edward White
Rodriguez
Kenneth Baynes
Clive Richardson
Mitchell Parish
Peter Kerry
George Gershwin
Albert Marland
arr. Ronald Hanmer
Louis Voss
Donald Phillips
Isra
arr. Isy Geiger
Bizet
Rachmaninoff
Chopin
Liszt
Kela Bela
Eric Coates
---


Listen to 'Music While You Work' played by Isy Geiger and his Orchestra
as broadcast on 17th. November 1960.
MUSIC WHILE YOU WORK
played by Isy Geiger and his Orchestra
BBC Light Programme at 3.45pm on 17th November 1960
Calling All Workers (Sig)
Radetsky March
Waltzing through Old Vienna
Paris Metro
Bonita
Diamonds and Pearls
Never On Sunday
Sarda
Boutarde Basque
The Dragonfly
Medley:
. Arrividerci Roma
. Caravelle
. High Tide, Low Tide
Bon Sante
My Little Corner of the World
The Old Campaigner Galop
Neapolitan Songs
Medley:
. June is Bustin' Out All Over
. A Wonderful Guy
. I Have Dreamed
. She Cain't Say No
. Shall We Dance
Calling All Workers (Sig)
Eric Coates
Johann Strauss
arr. Isy Geiger
William Hill-Bowen
Leslie Steele
Horatio Nicholls
L. Hadjidakis
Fred Alexander
Miguel Ruiz
J.Strauss arr. Geiger

Renato Rascel
Reg Owen
Steve Race
Musi Silvio
Lee Pockriss
Johann Strauss
arr. Isy Geiger
Richard Rodgers arr. Geiger





Eric Coates
---
MUSIC WHILE YOU WORK at 3.30 p.m. on 25th. February 1965
played by Isy Geiger and his Viennese Music
Calling All Workers (Sig)
Johann Strauss Memories
Good Old Vienna
Destiny Waltz
Swiss Air
The Falcons
The World's a Lovely Place
Ole Guapa
Swedish Polka
Schuhplattler
Medley:
. June is busting out all over
. A Wonderful Guy
. I Have Dreamed
. Shall We Dance
The Singer not the Song
The Ski Waltz
Frankfurt Polka
La Cachucha
Viennese Operetta Review
Calling All Workers (Sig)
Eric Coates
arr. Isy Geiger
Schrammel
Sidney Baynes
Vivian Ellis
Charles Williams
Lionel Bart
Malando
Ringstrand arr. Fred Hartley
Isy Geiger
Richard Rodgers




Green
Ronnie Munro
Harry Dexter
George Blackmore
arr. Isy Geiger
Eric Coates
---