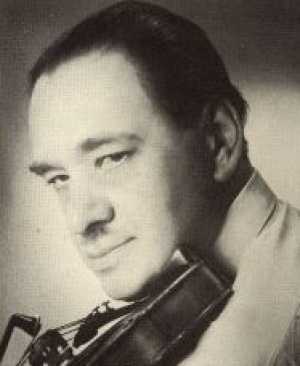 Ralph Elman and his Bohemian Players will certainly register with older readers but as they were essentially a broadcasting orchestra, rarely venturing into the recording studios, they are unknown to the present generation and will eventually be no more than a name in old editions of 'Radio Times'. So, what better reason could there be for placing the orchestra on permanent record in these pages?
Raphael Elman, to give him his real name, was born on 2nd December 1907 in Mile End, London. His father, Philip, hailed from Kiev in Ukraine and was a violinist in the days of the silent cinema. Ralph's mother, Moscow-born Annie Odinoff was a rabbi who went to the docks to receive refugees from the pogroms in Russia. Among those refugees was Ralph's father, Philip Elman, whose brother was the distinguished and ultimately world famous violinist, Mischa Elman. With such a celebrated uncle it was hardly surprising that Ralph should take up the violin and that his brother Henry should become a well-known cellist.
Ralph Elman and his Bohemian Players made their first broadcast in 1943 and, by the end of the war had become regular contributors to radio's light music broadcasts. His orchestra of fourteen players was a combination of strings, woodwind, trumpet, accordion, piano, guitar and percussion. He also broadcast as Ralph Elman and his Tsigane Orchestra. His obvious affinity for gypsy music inspired him to compose many pieces in this idiom, some written under his pen-name Raphael, such as 'Romantic Gypsies', 'Wild Gypsy', 'Laughter and Tears', 'Wandering Gypsies' and, most famous of all, 'Gypsy Fiddler' which Ralph regularly included in his broadcasts, as did other orchestras.
Ralph Elman and his Bohemian Players were heard in many different series over the years, including 'Bright and Early', 'Morning Music', 'Cafe on the Corner', various announced programmes which were untitled, simply called the name of the orchestra and 'Music While You Work' for which they contributed 174 editions over 18 years. Despite their title, the Bohemian Players performed a wide range of British and Continental light music, with the occasional Romany item. It has to be born in mind that the enthusiasm for gypsy music that existed in the thirties had largely died down by the fifties and the many exotically titled orchestras such as Ralph's had to be careful to provide a varied programme of music if they wished to continue to receive regular broadcasts.
In the late fifties, Ralph also led a sextet for a number of broadcasts. His ensembles existed essentially for radio and, in commom with many other speciality light orchestras were unceremoniously axed in the mid-sixties. The Bohemian Players final broadcast was in a series called 'Swing Into Summer', a compilation type of programme which replaced the afternoon editions of 'Music While You Work' in 1966.
Being a much respected musician, Ralph played in many other combinations and led the orchestras of Isy Geiger, Marcel Gardner, Harry Davidson and Hugh James. Indeed Hugh James told me that he 'admired Ralph as a musician and as a man', commending his beautiful plaintive tone which, he said, 'was so typical of someone with his background'
In those far off days when small light orchestras were heard daily on the radio, conductors often included in their programmes, compositions by their fellow bandleaders, often on a reciprocal basis. During the sixties Ralph always made a point of including a Ron Goodwin composition in each programme, possibly because he happened to lead the Ron Goodwin orchestra whose long-playing records often featured Ralph and his works.
Although Ralph was not known as a recording artist, he apparently made a few 78s, although I have yet to come across any. In 1971, however, in what was probably one of his last professional assignments, Ralph and his orchestra made a long-playing record of gypsy pieces, including some of his own compositions, on the Polydor label. Ralph Elman spent his last years in Spain, where he died from lung cancer on 14th January 1983 whilst listening to a record of 'Tsigane' by Ravel played by Heifetz.


Listen to 'Music While You Work' played by Ralph Elman and his Bohemian Players
as broadcast at 3.31pm on 9th May 1963.
MUSIC WHILE YOU WORK at 3.31 p.m. on 9th May 1963
played by Ralph Elman and his Bohemian Players
Calling All Workers (Sig)
Senor Pancho
Taverna
Mexico
Autumn Leaves
Bows and Bells
Harlem Waltz
Whisky Galore
Panatella
Nightingale Song
Donkey Ride
Wedding Dance
Concetta
Vilia
Baion de Santos
Amoureuse
Magyar memories
Calling all Workers (Sig)
Eric Coates
Harold Geller
Norrie Paramor
Bryant
Kosma
Sidney del Monte
Reynolds
Fred Hartley
Ron Goodwin
Zeller
Albert Delroy
Newman
Harry Dexter
Franz Lehar
Eric Jupp
Berger
Ralph Elman
Eric Coates
---


Listen to 'Music While You Work' played by Ralph Elman and his Bohemian Players
as broadcast at 3.31pm on 13th August 1963.
MUSIC WHILE YOU WORK at 3.31 p.m. on 13th August 1963
played by Ralph Elman and his Bohemian Players
Calling All Workers (Sig)
Haifa Festival
Count of Luxembourg Waltz
Messenger Boy
The Little Lobster
Marechiare
Spanish Violins
Jangle Bells
Parakeets of Paraguay
Amoureuse
The March Hare
Tonight
The Cuban Bellringer
The Jazz Drum Major
Swedish Polka
Winter Sunshine
The Man who Plays the Mandolino
Magyar Memories
Calling all Workers (Sig)
Eric Coates
Isra
Franz Lehar
Ron Goodwin
Rico
Tosti
Helmut Zacharias
Kenneth Baynes
Cedric Dumont
Berger
Phil Green
Leonard Bernstein
Menard
Pastern
Hugo Alfven
George Melachrino
Fanciulla
Ralph Elman
Eric Coates
---
MORNING MUSIC at 7.15 a.m. on the Home Service on August 13th 1949
played by Ralph Elman and his Bohemian Players
Spanish March
Dolores
Donkey Serenade
Russian Gypsy Airs
Besame Mucho
Ad Infinitum
Sabre Dance
Neapolitan Serenade
Malaguena
Magyar Memories
Rixner
Emile Waldteufel
Friml arr. Sidney Davey
Trad. arr. Ralph Elman
Velasquez
Kenneth Baynes
Khachaturyan
Gerhard Winkler
Ernesto Lecuona
Ralph Elman
---
MUSIC WHILE YOU WORK at 3.31 p.m. on 21st January 1966
played by Ralph Elman and his Bohemian Players
Calling All Workers (Sig)
Banda Espagnole
Louisette
Bows and Bells
Autumn Leaves
Jangle Jingle
Belle of Brazil
Under the Linden Tree
Gipsy Fiddler
The Nightingale Song
Mercury Gets the Message
Luxembourg Polka
Carriage and Pair
Marechiare
Night Flight
Whisky Galore
Portugese Washerwoman
Calling all Workers (Sig)
Eric Coates
Gerald Crossman
Jacques Vallez
Sydney Del Monte
Kosma
Muston
Edward Rubach
Felix
Ralph Elman
Zeller
Ron Goodwin
Reisdorf
Benjamin Frankel
Tosti
William Gardner
Fred Hartley
Lucchesi
Eric Coates
---


Listen to Ralph Elman and his Bohemian Players
playing his own composition 'Gypsy Fiddler'
(60 second clip)
---