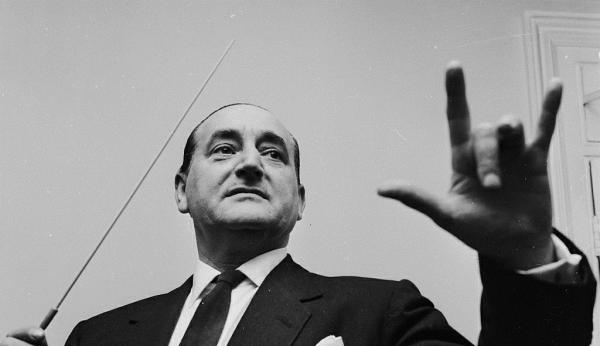 Louis Voss
Louis Voss was born in London on 12th January 1902 and studied violin and piano from an early age. Having been "discovered", aged twelve whilst playing at a school function, he went on to study at the Guildhall School of Music, winning many prizes and scholarships, including the AGSM.
Throughout the 1920s he directed cinema orchestras, accompanying silent films until the arrival of "talkies", whereupon he turned his attention to cafe and restaurant work, specialising in gypsy, Viennese and Hungarian music.
During the thirties and forties the Louis Voss Grand Orchestra made many records for Bosworth's, also recording under the title "West End Celebrity Orchestra." In the thirties he also started broadcasting with a nine piece ensemble, calling himself Luigi Voselli and his Hungarian Orchestra. However, when the war came he had to revert to his own name as the BBC did not like to be perceived as employing Italians - even if it was only a pseudonym ! From 1942, he served in the Royal Air Force and did not resume broadcasting until 1946 .
When he did return to the airwaves, it was with several combinations - The Bioscope Orchestra, Louis Voss and his players and the Tyroleans - a six piece Bavarian band which, in addition to broadcasting in its own right, became a featured spot in the orchestra best remembered by listeners, The Kursaal Orchestra - a 21 piece orchestra comprised of strings,woodwind, accordion. piano and percussion. This stylish light orchestra specialised in novelty numbers, continental style tunes and show selections. The bass player switched to tuba for the Tyroleon numbers ( many of which were actually Louis Voss originals). Louis Voss favoured a delicate sound,making much use of piccolo, glockenspiel and bass clarinet,playing in unison, contrasting with a lush string sound. Chords were punched out, using accordion, woodwind and (sometimes)tuba.
Louis Voss and the Kursaal Orchestra broadcast for more than twenty years in programmes such as 'Cafe on the Corner', 'Morning Music', 'Dancing Round the World', 'Music Mixture', 'Marching and Waltzing' and not forgetting 149 editions of 'Music While You Work' !
Apart from his skills as a violinist and conductor, Louis Voss was a prolific composer. Amongst his compositions are: 'Alpine Fairy Tale', 'Masquerade in Madrid', 'Conversation Caprice' and 'Piccaninny Puppets' - a title that probably wouldn't be acceptable today. He often wrote under the pseudonym of Stefan Rogez, his son being Roger and his daughter, the well-known soprano and actress Stephanie Voss, to whom he dedicated one of his earlier compositions - 'Stefanka'.
By the late forties, Louis Voss was one of the BBC's most frequent broadcasters, yet still found time to do theatre work, becoming MD for a musical starring Arthur Askey, 'The Kid From Stratford'. Unknown to radio listeners,he was for many years the conductor of Sydney Thompson's Old Time Orchestra - Thompson being a dancer rather than a musician. He never got any credit for this, but according to a former BBC producer 'he was too much of a gentleman to complain'.
Louis Voss and the Kursaal Orchestra (and the larger Louis Voss Light Orchestra) continued to broadcast until 1967, when the axe fell upon many delightful light orchestras. Well respected by his fellow musicians, Louis Voss died on 14th March 1980, aged 78.
---


Listen to 'Music While You Work' played by Louis Voss and his Kursaal Orchestra
as broadcast at 3.31 p.m. on 27th December 1962.
MUSIC WHILE YOU WORK at 3.31 p.m. on 27th December 1962
played by Louis Voss and his Kursaal Orchestra
The London Scottish
Woodpecker Waltz
Rainbow Run
Song of Alassio
Piccaninny Puppets
Happy Hurdy Gurdy
Budgerigar Polka
A Garden in the Rain
Lovely Margaretta
Red Wing
Tango Yvonne
Lazy Pete
White Christmas
Trampolina
Young Hopeful
The Happy Mountaineers
Selection:Hans Christian Anderson
Calling All Workers (sig)
Haines
Sherman Myers
Eddie Mers
Edward Charles
Louis Voss
John Carmichael
Harry Dexter
Carroll Gibbons
Michael Carroll
Kerry Mills
Bernard Monshin
Werner-Kersten
Irving Berlin
Geoff Love
Gilbert Vinter
Silver
Frank Loesser
Eric Coates
---


Listen to 'Music While You Work' played by Louis Voss and his Kursaal Orchestra
as broadcast at 3.31 p.m. on 3rd January 1964.
MUSIC WHILE YOU WORK at 3.31 p.m. on 3rd January 1964
played by Louis Voss and his Kursaal Orchestra
Calling All Workers (sig)
Tartan Patrol
Maigret Theme
Medley:
. Valentina
. Valencia
. Ooh La La
Peg O' My Heart
Heidelberg Polka
A Garden in Granada
Antonella
Mexican Serenade
Song of Alassio
Jangle Bells
Happy Hurdy Gurdy
Selection: The Sound of Music
Maria's Tarantella
La Cannebiere
Perfidia
The Happy Mountaineer
Medley: Souvenir D'Italie
. Chella Lia
. Kiss Me, Kiss Me
. Souvenir D'Italie
. Summertime in Venice
. Torero
Calling All Workers (sig)
Coates
Ewing
Grainer
arr. Papworth
Christine
Padilla
Jessel
Fisher
Watters
Lewis
Rogez
Coles
Charles
Baynes
Carmichael
Rodgers
Green
Agoult
Dominguez
Schlapfer
arr. Fones
Taccani
Casadel
Luttazzi
Icini
Carosone
Coates
---
7.15am. Home Service 26th. October 1953
The Kursaal Orchestra directed by Louis Voss
Bob Sleigh
My Heart Sings
Viva Mexico
Summertime in Fontainebleau
Horse and Buggy
Persian Nocturne
Shortcake Walk
Some Enchanted Evening
Caribbean Calypso
Alpine Fairy Tale
Selection: Peter Pan
Eric Jupp
James Willard
Ronald Hanmer
Norman Hackforth
Leroy Anderson
Robert Stoltz
Sidney Torch
Richard Rodgers
Ronald Binge
Stefan Rogez
Churchill and Fain
---