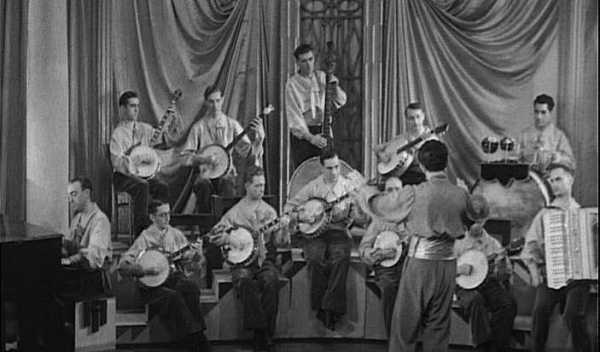 Pasquale Troise was born in Naples in 1895 and took up the clarinet at an early age, graduating to the school band at the age of seven. It was several years later that he began learning the banjo, mandolin and guitar, becoming a proficient performer in all three instruments.
Troise came to this country in the early twenties and in 1926 joined the London Radio Dance Band directed by Sidney Firman and subsequently Jack Padbury. After a spell with Jack Padbury's sextet at the Cosmo Club, Pasquale Troise decided to form his own band — the Selecta Plectrum Mandoline Orchestra. He secured a recording contract with Decca and made a number of records, including 'The Bohemian Girl' Selection and 'Rendezvous' by Aletter.
It was hardly surprising that by the early thirties the somewhat cumbersome title of the band had changed to Troise and his Mandoliers and, having joined the variety theatre circuit, the band toured the country, commencing with the Plaza, Haymarket. Their phenomenal success on the halls was due, in no small measure, to the energetic enthusiasm of their leader. During the thirties, the Mandoliers cut over 60 sides for Rex, Regal and Regal-zonophone with items as diverse as the 'Zampa' Overture (Herold) and the 'Spanish Gypsy Dance' (Marquina). When on stage, the mandoline players doubled on banjos, and the resulting combination became Troise and his Banjoliers. Some years ago Jimmy Perry presented a television series called 'Turns' which used rare archival clips of artists from the past and both the Banjoliers and Mandoliers were featured.
When 'Music While You Work' was introduced in 1940, Troise was an obvious choice as a dispenser of bright and cheerful music and made his first appearance in September of that year. After four performances by the Mandoliers, however, it was decided that the Banjoliers were more suited to the programme, banjos apparently being more audible than mandolines in noisy factories. So, all subsequent appearances were by Troise and his Banjoliers, the Mandoliers being used in other programmes. During the forties, the Banjoliers made a number of recordings on the Decca 'Music While You Work' label.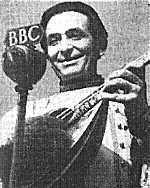 In addition to his skills as a mandoline player and conductor, Troise was a prolific arranger and composer. Titles include 'Festive Romance', 'Jolly Archers', 'Here they Come' and, most famous of all, a tarantella entitled 'Napolitana', which was actually a selection of Neapolitan songs. Other medleys arranged by Troise include 'Tally Ho!', 'Gems of Stephen Foster' and 'Songs of Old England'. Another feature of his MWYW programmes was a medley of current pops arranged by Billy Cater-Smith and later Antony Fones Jnr. The same tunes were used for several consecutive broadcasts and then replaced when they were no longer of plugging value to the publishers. Publishers would finance the cost of arrangements, providing that they were played an agreed number of times during their currency in the playlist. This, apart from reducing bandleaders' arranging costs, was beneficial to publishers but understandably frowned upon by the BBC, whose Charter did not permit advertising or 'plugging' in any form, but, in practice, most bandleaders did it and seemingly got away with it. No doubt the BBC turned a blind eye, providing that there was no obvious bias towards any one publisher or composer.
During the fifties, Troise sometimes broadcast with a combination called Troise and his Serenaders, or as Troise and his Continental Music. This combination of 19 players was basically the Mandoliers with the addition of a small string section. Early in 1957, Troise fell ill and the Banjoliers were conducted by Jack Mandel, a respected violinist who played for such famous names as Harry Davidson and Ralph Elman (even taking over the direction of their orchestras when they were indisposed). Mandel had been taught banjo and mandoline by Troise in the thirties and had played for him ever since.
Sadly, on 21st March 1957, Troise died. He had commanded tremendous respect from the music profession as well as from the BBC. Senior executive H. Campbell-Ricketts once said: 'I've never known him do other than a good broadcast.' The popularity of the Banjoliers was such that the BBC was determined that they should be kept together and, within just a few days of Troise's death, negotiations took place with his widow, which resulted in the appointment of Jack Mandel as permanent conductor. It was agreed that, initially, a hire fee would be payable to Mrs Troise for the use of the library. For a time, the Mandoliers and Continental Music continued to broadcast on 'Morning Music', but they were eventually dropped, as the Banjoliers were proving to be more popular. Their instrumentation was piano, bass, drums, accordion and eight banjos in varying sizes and pitches. Jack Mandel kept faithfully to the Troise style of programming for some years, although he tended to use fewer medleys in relation to individual pieces.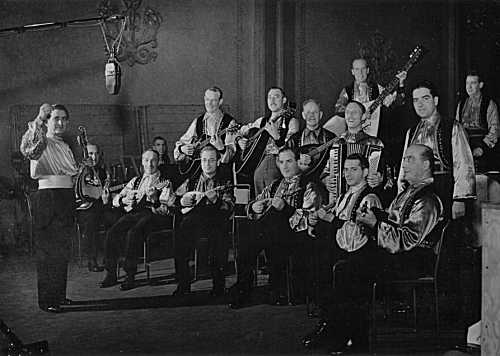 When the BBC integrated their Light Music Department into their newly-formed Popular Music Department, Jack Mandel introduced more dance music into the repertoire, although he dispensed with the Popular Pot-pourri which had virtually become a medley of current film and television themes and show tunes, there being little in the charts that was stylistically suited to the band. Although, in common with other combinations, they had become more commercial, they still played a repertoire superior to other banjo bands, most of which specialised in the popular song repertoire/minstrel tunes etc. The Big Ben Banjo Band had become popular but even their conductor, Norrie Paramor, admitted that he had only formed it for a joke and had been surprised at its success.
For me, the Banjoliers had that bit of extra class, their superb playing and fine arrangements of a wide range of music made them unique in broadcasting. Their personnel changed very little over the years — classical mandoline player Hugo D'Alton, Billy Bell and Terry Walsh were all there to ensure stability, with accordionist Emile Charlier or Albert Delroy and pianists such as William Davies and Sidney Davey.
The Banjoliers hold the record for the most 'Music While You Work' programmes, Troise and Jack Mandel having led 258 and 217 respectively. After the series finished, the Banjoliers continued to broadcast until being axed by the BBC in the early seventies. Some years later the Mandoliers' library was revived in 'Friday Night is Music Night', using a combination called The Mandolin Men. The revival was short-lived, however, and the library subsequently went to a school which had its own mandoline orchestra.
Jack Mandel was asked to reform the Banjoliers in 1982 to do a 'Music While You Work' as part of the BBC's 60th Anniversary Celebrations. This turned out to be the band's final broadcast. Jack Mandel retired to Israel, where he died a few years later.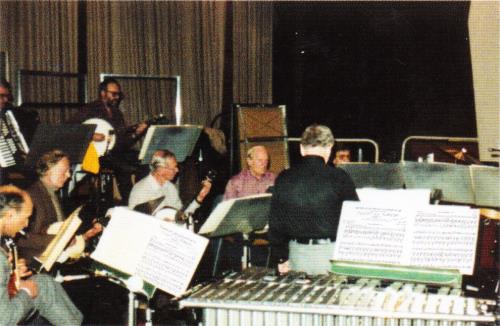 The Banjoliers, directed by Jack Mandel, playing in their final broadcast fifty years after their first



Listen to 'Music While You Work' played by The Banjoliers directed by Jack Mandel
as broadcast on the BBC Light Programme at 3.31pm on 22nd August 1961.
MUSIC WHILE YOU WORK
on 22nd August 1961
played by The Banjoliers
directed by Jack Mandel
(Sig) Calling All Workers
Gaily through the World
Medley:
. My Song of love
. You, just you
. You too
. Goodbye
Spanish Harlem
Tesoro Mio
Nigger in the Woodpile
Silly Billy
Windows of Paris
Faire Frou-Frou
Whistling Boy
Poop Deck Polka
Jolly Archers
Medley:
. Come Lasses and Lads
. Lass of Richmond Hill
. Lincolnshire Poacher
. Strawberry Fair
. The farmer's boy
Medley:
.You're Driving me Crazy
. I've told every little star
. Put on a happy face
. How wonderful to know
. Bingo
Bon Sante
Medley:
. A hundred pipers
. Highland lassie my love was born
. Will ye no come back again
. Cock 'o the North
. Pipers of Dundee
. Annie Laurie
(Sig) Calling All Workers
Eric Coates
Macbeth
Robert Stolz




Phil Spector
Becucci
Montague Ewing
Norrie Paramor
Tony Osborne
Ronald Binge
Colin Stewart
Lloyd Thomas
Pasquale Troise
Trad. arr.Cecil Woods






Walter Donaldson
Jerome Kern
Charles Strouse
Salve d'Esposito
Dave Carey
Musi Silvio
Trad. arr.Troise






Eric Coates
---


Listen to 'Music While You Work' played by The Banjoliers directed by Jack Mandel
as broadcast on the BBC Light Programme at 10.31am on 1st May 1967.
MUSIC WHILE YOU WORK
on 1st May 1967
played by The Banjoliers
directed by Jack Mandel
(Sig) Calling All Workers
Folkestone Road
Ballad of Jed Clampett
Memories are made of this
Rolling Round the World
Spring Double
Bless 'em All
The Circus is here
Mame
Yankee Doodle Boy
Coconut Beach
12th Street Rag
Medley:
. Should I
. You are my lucky star
. Ferry Boat Serenade
(Sig) Calling All Workers
Eric Coates
R.Dabson
Henning
Gilkyson
S. Sanders
Albert Marland
Hughes
A. de Salatinay
Jerry Herman
Cohan
Sandy Blair
L. Bowman

F.Brown
F.Brown
Lazzaro
Eric Coates
---


Listen to 'Music While You Work' played by Troise and his Banjoliers
as broadcast on 22nd December 1956.
MUSIC WHILE YOU WORK
10:30am on 22nd. December 1956
played by Troise and his Banjoliers
(Sig) Calling All Workers
Old Comrades
Songs of Old England
Dance of the Panpipes
When You Wore a Tulip
March: Bonanza
Teddy Bears Picnic
Popular Potpourri:
. Whatever Will be,Will be
. A House with love in it
. A woman in love
. Tonight you belong to me
. True Love
If You don't Love Me
Christmas Medley:
. I saw Mommy kissing Santa Claus
. White Christmas
. Rudolph, the red-nosed reindeer
A Cockney medley:
. One of the ruins that Cromwell Knocked about a Bit
. At Trinity Church
. Wot Cher!
. Are you coming to the cakewalk tonight
. Knees up Mother Brown
(Sig) Calling All Workers
Eric Coates
Teike
Trad.arr.Troise
Jack Coles
Paul Wenrich
Roger Barsotti
John Bratton
Arr.Tony Fones
Jay Livingston
Sid Lippman
Frank Loesser
Lee David
Cole Porter
Alan Goodchild
Arr. Tony Fones
Tommy Connor
Irving Berlin
Johnny Marks
Arr. Bert Sheaff
Bedford
Costello
Ingle
Thurban
Weston and Lee
Eric Coates
---


Listen to 'Music While You Work' played by The Banjoliers directed by Jack Mandel
as broadcast on 19th March 1964.
MUSIC WHILE YOU WORK
on 19th March 1964
played by The Banjoliers
Directed by Jack Mandel
Calling All Workers (Sig)
Macnamara's Band
Suntan
A Stitch in Time
Medley
. I love the sunshine of your smile
. Luna Rose
. Yellow Rose of Texas
The Stroller
Canadian Capers
Italian Medley
. O Marenariello
. O Sole Mio
. La Spagnola
. Funiculi Funicula
Metro Polka
L'Apaka
Silly Billy
Heather on the Pampas
Jangle Bells
Medley:
. Fiddlers' Bugle Call
. Caramba
. Begorra
Popsy
Fighting Fours
Mexico
I Love the Little Things
Irish Medley
. The Girl I Left Behind Me
. Killarney
. Irish Washerwoman
. Garry Owen
. St.Patrick's Day
Calling All Workers (Sig)
Eric Coates
Conner
Johnny Douglas
Phil Green

MacDonald
Vian
George
Malcolm Lockyer
Chandler
arr. Jack Mandel
Giambardella
Di Capja
Di Chiara
Denza
Evans
Panzutti
Norrie Paramor
Sydney del Monte
Kenneth Baynes

Ray Martin
Ray Martin
Ray Martin
Michael Hill
Dabson
Bryant
Tony Hatch
arr. Pasquale Troise





Eric Coates
---
7.15 a.m. Home Service on 23rd July 1953
Troise and his Banjoliers
March: Paris
Teddy Bears' Picnic
March: The Coloured Band
Neapolitana
Tango: Rosita
Chopsticks
Lullaby of Broadway
Irish Medley
The Girl without a Name
Old Plantation Songs
Bolero: Eveiva Londres
Theodore Mackeben
John Bratton
Paul Eno
arr.Troise
Paul Dupont
Frederick Charrosin
Harry Warren
arr. Cecil Woods
Dana Suesse
arr. Troise
Manlio di Veroli
---
3.31pm. on Tuesday 16th.July 1963 - Light Programme
MUSIC WHILE YOU WORK
The Banjoliers, directed by Jack Mandel
(Sig) Calling All Workers
When the Saints go Marching In
Wedding of the Painted Doll
I Loved You
Charleston Parisienne
The Skaters' waltz
Silly Billy
Bows and Bells
Craftsmen of the Army
Heidelberg Polka
Ooh La La
Bistro
Under the Bridges of Paris
Everybody Loves a Lover
Jolly Archers
Sirocco
Popular Potpourri:
. Erica
. Flash, Bang, Wallop
. Half a Sixpence
Selection: Songs of England
(Sig) Calling All Workers
Eric Coates
Trad. arr. Jack Mandel
Nacio Herb Brown
Franker
Moulin
Emile Waldteufel
Norrie Paramor
Sydney Del Monte
Dabson
Cyril Watters
Calvi
Harris
Vincent Scotto
Adler
Pasquale Troise
George Scott-Wood

Winstone
Heneker
Heneker
arr. Pasquale Troise
Eric Coates
---