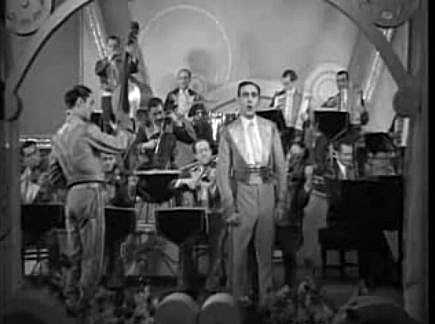 Of the many 'speciality orchestras' featured on radio since the Second World War, Bernard Monshin and his Rio Tango Band must surely be amongst the best remembered and most popular.
Born in the East End of London on 2nd July 1914, Bernard Monshin took up the violin at the age of five, winning an open scholarship to the Royal Academy of Music at 14. He formed his first band at the Kit Kat Restaurant in 1931 playing opposite such famous names as Roy Fox and Joe Loss. At a mere 17 years of age he was London's youngest bandleader. Calling his group Renaldo's Tango Band, Bernard soon commenced broadcasting, but was forced to drop the name after just one broadcast following a complaint by one Gerald Bright (Geraldo) that the name could be confused with Geraldo's Gaucho Tango Band! For a short while he changed the name to D'Monshin's Tango Band before reverting to his own name. Incidentally, Bernard told me that the European origin of his name was Mondscheine meaning 'moonshine'.
During the mid-thirties, Bernard Monshin toured the country with his tango band, playing in variety theatres until 1937, when he was invited to take the band to Reykjavik, Iceland, for a year. Weekly broadcasts were made from the Hotel Borg until 1938, when the band returned to London to become the resident tango and Latin-American orchestra at the newly-opened Casini Club in Regent Street.
The Second World War meant a break in Monshin's career and from 1940 to 1944 he served with distinction in the Royal Air Force. After the war he re-formed his orchestra for radio under the title of Bernard Monshin and his Rio Tango Band, a 14-piece orchestra of strings, two pianos, two accordions (played by Henry Krein and Gerald Crossman), guitar and percussion. In 1951, as part of the Festival of Britain celebrations, the band gave concerts on London's South Bank, as did several other broadcasting light orchestras. It was around this time that Bernard Monshin formed his Concert Tango Orchestra, which varied in size according to requirements (and no doubt BBC budgets), numbering anything from 19 to 34 players. Inevitably, its size meant that the orchestra was not used as frequently as the smaller
combination. The Rio Tango Band, however, was quite adequate and not only had one of the most original styles on the air, but it also had a freshness and sparkle, the like of which is rarely heard today. They didn't just play tangos, of course, although there were usually three or four in a programme. The full range of Latin rhythms was used:
sambas, paso dobles, beguines, joropos, rumbas, cha-chas and boleros, plus the occasional waltz or novelty number for contrast.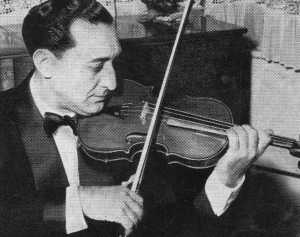 In the fifties, at the suggestion of Bernard Monshin, the BBC commissioned a series of Sunday morning shows entitled 'Tango Time', for which Bernard wrote the signature tune. The series was a great success, considerably boosting the listening figures for this time. The orchestra's normal signature tune was 'Hear My Song, Violetta' and when it broadcast programmes of continuous music, such as 'Music While You Work', a few bars of this were played on the celeste between items.
It must not be overlooked that, in addition to his talents as a violinist and conductor, Bernard Monshin achieved considerable success with his Latin-American compositions, amongst which were 'Fascinating Tango', 'Bravo, Bravo', 'Mi Linda', 'Caracas', 'Tango Time', 'Blue Sapphire', 'Last Tango' and 'Tango Yvonne', which was dedicated to his daughter.
Bernard Monshin told me the story behind one of his pieces, a joropo entitled 'Caracas', composed under the nom-de-plume of Antonio Alma. One day he was sitting in his car, waiting for his wife to return from shopping, when a tune came to him in its entirety. He hurriedly took a piece of manuscript paper and jotted it down. That evening he took it to a club where he was appearing with a small group and, together with the pianist, hastily produced an arrangement. During the evening the group played it several times and within a fortnight it received its first broadcast with the Rio Tango Band.
Bernard Monshin participated in many light music programmes over the years including 'Melody Hour', 'Caf? On The Corner', 'Serenade In The Night', 'Tango Time', 'Morning Music', 'Breakfast Special' and of course 'Music While You Work', for which the Rio Tango Band played 146 editions. Bernard also vividly recalled a broadcast which took place around 1964, when he was asked to provide an experimental stereophonic broadcast of light music using the Concert Tango Orchestra. Nineteen musicians took part in this broadcast, which could only be heard in stereo by tuning in to television's BBC2 as well as the radio. The programme consisted of 25 minutes of continuous music with celeste links.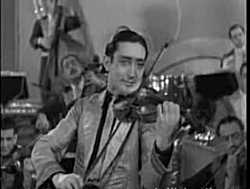 Although Monshin was not known as a recording artist, he did make a few 78s and four pieces subsequently reappeared on a Pye/Nixa EP. He also made one LP for the Oriole Record Company, on their 'Realm' label entitled 'Sway Like Latin'. As a violinist, he played in the orchestras of Isy Geiger, Anton, Lionel Falkman and in Wynford Reynolds' Raeburn Orchestra. It was in 1958 that Wynford Reynolds became seriously ill and Bernard Monshin offered to conduct the orchestra so that their dates were not lost to another combination. Consequently, Monshin conducted the Raeburn Orchestra for a number of editions of 'Marching and Waltzing' and a couple of 'Music While You Work' programmes prior to Reynolds' untimely death later that year.
The Rio Tango Band continued to broadcast until the late sixties, their final appearance being in an early Sunday morning programme. This programme was badly edited and some of the rehearsal was actually heard on air, including Monshin's instructions to the orchestra! The announcer found this amusing but it made for a rather inauspicious final broadcast. Although the Rio Tango Band didn't broadcast again, Bernard Monshin continued to broadcast with what the BBC considered to be a more commercial style of orchestra, which he used in 'Breakfast Special, 'Roundabout' and a series called 'Time For Latin Tempo' that incorporated studio dancing in a similar manner to Sidney Bowman's 'Time For Old Time'. The Bernard Monshin Latin-American Orchestra, which by now had been augmented with woodwind and brass, continued to broadcast until the mid-seventies.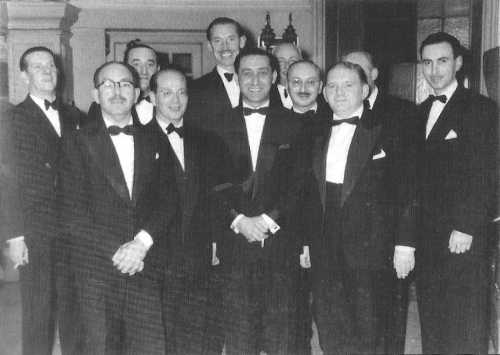 Bernard Monshin and his Rio Tango Band.
This orchestra also included a number of well-known musicians. Henry Elman (second from left); Louis Voss (partially obscured); guitarist Billy Bell behind Bernard Monshin (centre); Alec Firman (fourth from right); Edward Rubach (third from right) and Gerald Crossman (extreme right)
Fortunately for Bernard Monshin, he had another string to his bow in the form of orchestral management, otherwise known as 'fixing'. For some years he had successfully provided orchestras for television and films, and one of his last assignments was a James Bond film.
During the 1983 season of 'Music While You Work', Bernard organised and played in the Geoffrey Brand Orchestra and it was at one of these sessions that I persuaded him to approach the Producer with a view to getting his own orchestra back on radio. He went into the control box saying, 'I'm Bernard Monshin and I haven't broadcast for seven years.' Apparently the Producer's reaction was to wrap a newspaper round his head. The message was obvious — he didn't want to know! Sadly, Bernard Monshin never succeeded in getting his orchestra back on the air, He died in March 1988 aged 73.


Listen to 'Music While You Work' as broadcast
by Bernard Monshin and his Rio Tango Band
on the BBC Light Programme at 10.31am on 28th December 1964.
MUSIC WHILE YOU WORK
played by Bernard Monshin and his Rio Tango Band
on 28th December 1964
Calling All Workers (Sig)
Fiesta
Tango Time
Portuguese Party
Two Guitars
The Red Sombrero
Love's Last Word is Spoken
El Relicario
Poverino Mio
Baion de Santos
El Gaucho
Calling All Workers(Sig)
Eric Coates
Krapp
Bernard Monshin
Gilbert Vinter
Martin
Ronald Binge
Bixio
Padilla
Gerald Crossman
Eric Jupp
Malcolm Lockyer
Eric Coates
---


Listen to 'Music While You Work' as broadcast
by Bernard Monshin and his Rio Tango Band
on the BBC Light Programme at 3.31pm on 17th July 1962.
MUSIC WHILE YOU WORK
on 17th. July 1962
played by Bernard Monshin and his Rio Tango Band
Calling All Workers (Sig)
Fiesta
Spanish Violins
The Proud Matador
Antonella
Morning Glory
Tango Time
Lavoona
Garden in Granada
El Gato Montes
Revenge
Ay Ay Ay Baio
Under the Linden Tree
Poverino Mio
Love's Last Word is Spoken
Rio Chambira
Viva Villa
Calling All Workers(Sig)
Eric Coates
Simon Krapp
Helmut Zacharias
Horan
Louis Voss
Wynford Reynolds
Bernard Monshin
Maurice Arnold
Sam Lewis
Manuel Penella
George Scott-Wood
Luiz Gonzaga
Hugo Felix
Gerald Crossman
Cesare Bixio
Werner Muller
Jack Leon
Eric Coates
---

Listen to Bernard Monshin and his Rio Tango Band
Playing his own composition 'Blue Sapphire'
(45 second clip)

Listen to Bernard Monshin and his Rio Tango Band
Playing his own composition 'Caracas'
(60 second clip)
---